Monday, December 12, 2005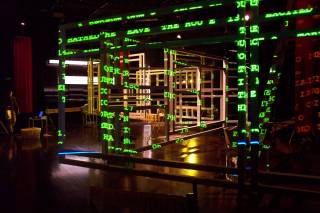 Ruark Lewis and Rainer Linz, Banalities for the Perfect House
banalities for the perfect house

is a collaborative installation & performance work premiered at Sydney's Performance Space theatre on Sept 9 2005.
The work proposes the house as a condition through which we perceive the world - the city an extension of grid-like structures viewed through the "frame" of an open window.

Performance texts are distilled from everyday sources including newspapers, cookery books, and snippets of overheard conversation. They consist of seven Banalities: Banalities for the Perfect House, Banalities for Napoleon, Banalities for the Modern Kitchen, Banalities for Solid Mandala, Banalities for Newspapers, Banalities for the Times and Misreading Barricades.

The texts are inscribed on all architectural surfaces, and take the form of performance scripts as well. These include cards, looseleaf and bound pages, and word sequences printed on ticker tape.



tarted by ---gallizio
in the ever writing non-reading era




permalink