Thursday, January 20, 2005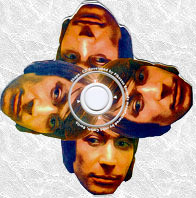 The sovereign media insulate themselves against the hyperculture. They seek no connection; they disconnect. This is their point of departure we have a liftoff. They leave the media surface and orbit the multimedia network as satellites. These doityourselfers shut themselves up inside a selfbuilt monad, an "indivisible unit" of introverted technologies which, like a room without doors or windows, wishes to deny the existence of the world. This act is a denial of the maxim "I am connected, therefore I am". It conceals no longing for a return to nature. They do not criticize the baroque data environments or experience them as threats, but consider them material, to use as they please. They operate beyond clean and dirty, in the garbage system ruled by chaos pur sang.
Their carefree rummaging in the universal media archive is not a management strategy for jogging jammed creativity. These negative media refuse to be positively defined and are good for nothing. They demand no attention and constitute no enrichment of the existing media landscape. Once detached from every meaningful context, they switch over in fits and starts from one audiovideo collection to the next. The autonomously multiplying connections generate a sensory space, which is relaxing as well as nerveracking. This tangle can never be exploited as a trendsensitive genre again. All the data in the world alternately make up one lovely big amusement park and a fivestar survival trek in the paranoid category, where humor descends on awkward moments like an angel of salvation and lifts the program up out of the muck. Unlike the "antimedia", which are based on a radical critique of capitalist (art) production, the sovereign media have alienated themselves from the entire business of politics and the art scene. An advanced mutual disinterest hampers any interaction. They move in parallel worlds which do not interfere with each other. No antiinformation or criticism of politics or art is given in order to start up a dialogue with the authorities. Once sovereign, media are no longer attacked, but tolerated and, of course, ignored. But this lack of interest is not a result of disdain for the hobbyist amateur or political infantilism; it is the contemporary attitude towards any image or sound that is bestowed on the world anyway.
(...)
I media sovrani non si sentono più obbligati a fare dei riferimenti alla "maggioranza" mainstream. L'atto di dichiarare la sovranità della propria trasmissione mediatica si lascia alle spalle polarità dialettiche come grande/piccolo, maggiore/minore, largo/stretto, alternativo/mainstream, e pop/elitario.
I media sovrani hanno affermato molto tempo fa la loro dichiarazione di indipendenza e non si preoccupano neanche indirettamente dell'utente medio, della gente normale o del signor Rossi. L'unica funzione dei mass media è produrre materiali grezzi, dati-spazzatura che i produttori di media sovrani possono recuperare liberamente e reinterpretare nei loro cut-up.
Adilkno

sovereigned by ---gallizio
in the sovereign Ltd era